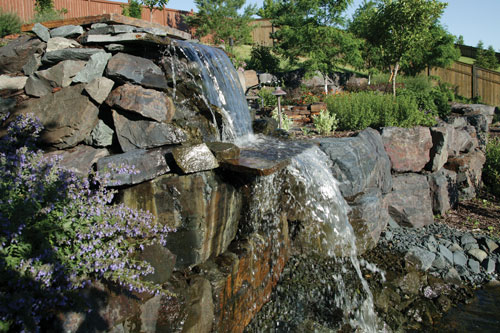 Creating Intimate Outdoor Spaces
Your home is more than just a house, and your landscape is more than just a yard. It's a place to call your own – a place of retreat and relaxation – a gathering space to enjoy all the seasons of Minnesota. Let the certified landscape designers of Meadow Green Landscape show you how they can design a truly stunning and unique exterior living space you'll love.
Collaborative Planning and Design
For 30 years, Meadow Green has created one-of-a-kind outdoor spaces throughout the greater Twin Cities. Specializing in custom residential landscaping with craftsman hardscapes, striking water features, and artisan stonework and gardens, Meadow Green will help you design a beautiful outdoor space that complements the personality of your home, while creating a unique living space of its own.
Through a collaborative planning and design process, our landscape designer will work with you to design an outdoor space that is practical, beautiful, functional and integrated with your home. Our certified nursery and landscape professionals will build and maintain your outdoors space for years to come.
Meadow Green offers custom, comprehensive landscape design, construction and maintenance including:
WATERFALL & POND FEATURES
Waterfalls create a peaceful environment and add a relaxing element of water to your landscape. Professionally installed by Meadow Green, your water feature will compliment and bring serenity to your existing landscape.
PONDLESS WATER FEATURES
Pondless water features near a patio or along a path provide a unique focal feature and add the soft sounds of water. They use less water than traditional fountains and require very little maintenance.
NATURAL STONE PATHWAYS & STAIRS
Tired of useless, boring areas in your yard?  Meadow Green can create beautiful, functional areas and sense of connection between spaces with the use of natural stone stairs and pathways.
Other residential landscaping services include:
• Natural stone features, patios, walls, and steps
• Paver and cobble patios, sidewalks and driveways
• Trees, shrubs, ground cover and lawns
• Landscape lighting
• New construction, renovation and retaining walls